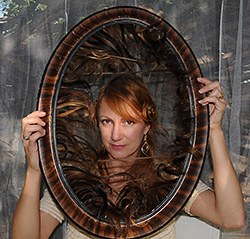 Alyssa Taylor Wendt (b. 1969, New York City) works as a multimedia artist in Austin, Texas. Beginning with an undergraduate degree in photography at NYU, she moved to the west coast and performed on records, in many awarded independent films, on stage and with collaborative art projects. Miss Wendt returned to the fold to earn her Master of Fine Arts from the International Center of Photography and Bard College (2008). In 2009, she was awarded two residencies in Norway and Iceland, making films and sculpture that culminated in installations. From 2008 to the present, Miss Wendt has additionally performed at The Museum of Art and Design in New York City, Deitch Projects, Location One, St. Cecilia's, envoy gallery, Colab Projects and the Fusebox Festival in Austin.
Currently, she concocts installations and multimedia pieces and continues to show in solo and group exhibitions both nationally and internationally. The latest projects have involved developing the ability to translate the visceral sense of her inner self into objects, photographic evidence and the moving image. The installation work revolves around this animism: non-linear videos with layered sound, sculpture, large format production stills and participatory performances that have a transformative social aspect. Her current explorations include: cycles of historical pattern; the fallacy of memory and impermanence of image; monument vs. ruin; personal cosmology as a medium and ritual.
Miss Wendt is currently in production of an epic three-channel video installation HAINT and has a solo exhibition in Austin in November 2015 at Women and Their Work and will be exhibiting in multiple group shows and performances in the US throughout the year .